Welcome
Lilawadee closed until April 28 and new offers !
Dear customers,
Due to the new measures against the Corona virus, Lilawadee is unfortunately temporarily closed until April 28.
Although we allready had to close our practice because it was not possible for us to apply the 1.5 meter distance rule, it is no longer allowed to carry out our profession from March 23. We fully support this because the safety and health of you (and ourselves) is paramount!
We hope to welcome you back to our practice as soon as it is allowed.
We wish you, your loved ones, family and friends a lot of strength in these difficult times.
Nevertheless, we would like to offer a discount of 10% on gift vouchers and 5% on strip cards until April 6th. You can give them to someone else or use them yourself.
These gift vouchers and strip cards have a validity of 1 year after the date of issue and we will send them by email.
If you want to take advantage of this promotion, you can email to info@lilawadee.nl or call, text, app to 06-18885465.
Stay healthy and safe!
Massage therapist Natascha le-Clercq
Lilawadee is the Thai word for a lovely smelling flower that grows everywhere in Asia and it is believed that it protects against demons. Therefore these beautiful flowers are often used in spas and grow near temples.
Thailand
During one of her travels through South East Asia in Chiang Mai (Thailand) Natascha le-Clercq came across the traditional Thai yoga massage. It felt so good and beneficial to receive such a massage that she decided to follow a course. During the course she found out that giving such a massage really provided her with a lot of satisfaction. Convinced of the possibilities this type of massage offers, she decided to follow more levels of the education in Chiang Mai. In Thailand she also followed courses in other types of (relaxation) massages such as Thai aroma oil massage, Thai herbal stamp massage (herbal compress) and hot stone massage.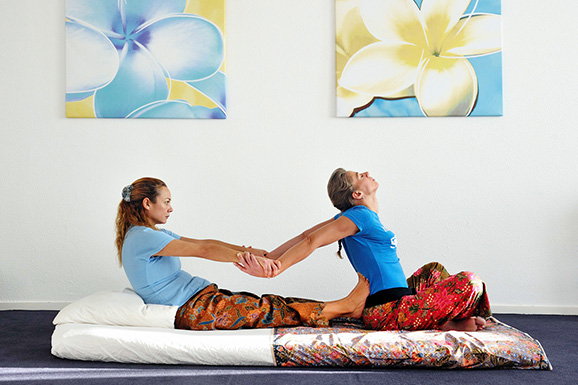 Netherlands
When she got back to the Netherlands she wanted more insight into the anatomy and physiology of the human body and she followed and completed an education in sport massage and sport care. Therefore Natascha is a certified sport masseur. A totally different discipline from the Thai massages but a very good addition to it, when people have specific questions on sensitivity or injury after sport activities or (hard) labour.
Development
Over the years she has continued to develop herself by following advanced courses in the different types of massages she already provides. She prefers to be as near to the source as possible, so for Thai massages she tries to do this in Thailand. She also learned about new types of massage such as the Thai foot reflexology massage.
Natascha provides a relaxing or complaint directed healing massage with full attention, dedication and with lots of pleasure.

Lilawadee is certified sports masseur.
This website uses cookies. Read our privacy policy. Documents Klachtenportaal Zorg (in Dutch only): – Algemene voorwaarden 2019 – Klachtenreglement 2019 – Spelregels